Smart Weather Colour
Professional wireless weather station
| Feature | Support |
| --- | --- |
| Inside / Outside temperature | / |
| Min / Max temperature | / |
| Wind speed / direction | / |
| Wind gusts | |
| Inside / Outside humidity | / |
| Dew point | |
| Rainfall | |
| Wind chill | |
| Forecast | |
| Barometric pressure | |
| Charts | |
| Wifi connection | |
| USB connection | |
| Internet upload | |
| Separate sensors | |
| Solar powered sensors | |
| Programmable warnings | |
| Mobile app | |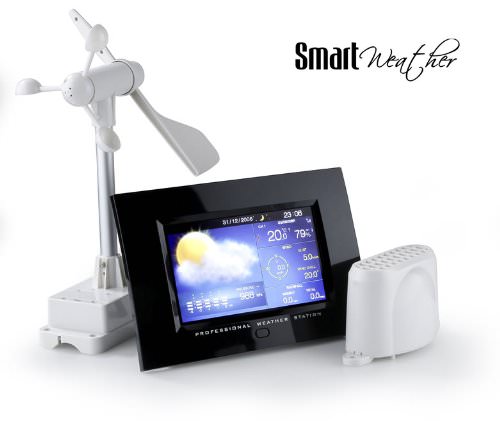 Set up
The Smart weather station comes with two separate sensor modules, one with a rain gauge and the other with wind speed and temperature sensors. The sensors are compact but look a little cheaper in build quality than some mid-range units.
Features
The Smart weather station main distinguishing feature is it's impressive 7 inch colour console screen which looks great and better than many far more expensive weather stations. The actual console is 11 inches across the diagonal due to the thick frame. The TFT display also functions as a digital photo frame. The weather station gives both indoor and outdoor temperature and humidity, barometric pressure, average wind speed and direction plus a historical pressure chart. It provides a simple forecast based on the trend in barometric pressure.
The console comes with a remote control and has 3 modes: weather only, weather and photo frame and lastly calendar mode.
The transmission range of the sensors is lower than some other units at only 30 metres. The clock picks up an automatic time signal but it uses one from Germany that is weaker than a local UK one. Both the wind meter and rain guage modules require 2 x 1.5v AAA batteries while the remote takes a CR2025.
Conclusion
The weather station console is uniquely attractive at this cheap price point but the stations accuracy suffers due to the cheap quality of the sensors. We found the wind gauge inaccurate at higher wind speeds, also the temperature readings would sometimes stick at oddly high values. We are concerned at the build quality, if the sensors cease working it's unlikely you will be able to get replacements. If you are willing to spend more you may get a more reliable unit.