SmartWeather Wireless Big Digit Weather Station
| Feature | Support |
| --- | --- |
| Inside / Outside temperature | / |
| Min / Max temperature | / |
| Wind speed / direction | / |
| Wind gusts | |
| Inside / Outside humidity | / |
| Dew point | |
| Rainfall | |
| Wind chill | |
| Forecast | |
| Barometric pressure | |
| Charts | |
| Wifi connection | |
| USB connection | |
| Internet upload | |
| Separate sensors | |
| Solar powered sensors | |
| Programmable warnings | |
| Mobile app | |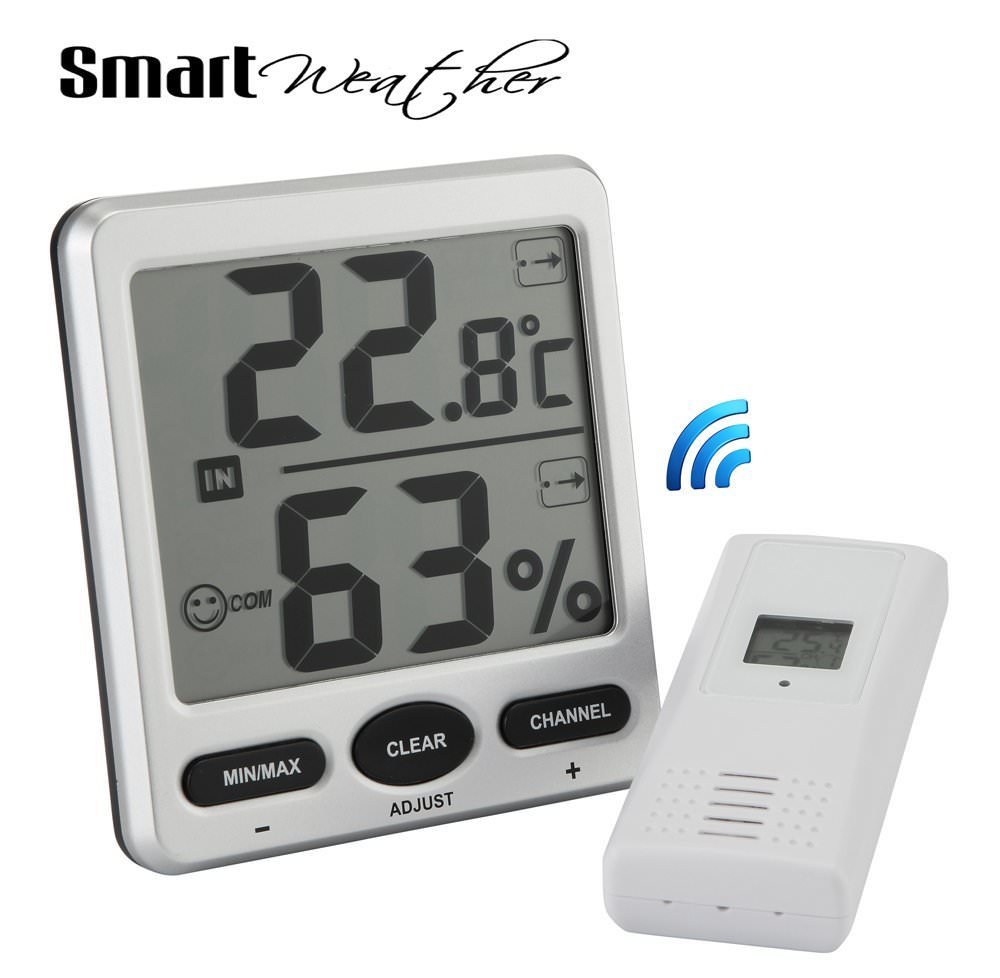 Set up
The set up is very simple, it has a single battery powered sensor that can be mounted to an outside wall. It wirelessly transmits the outside temperature and humidity to the indoor console. The indoor display console can be easily wall mounted or placed on your desktop indoors. The transmission range of the outdoor sensor is 30 metres. You can choose from Celsius or Fahrenheit readings. The indoor console requires 4 AAA batteries and does not have an external power supply option. Each outdoor sensor requires 2 AAA batteries.
Features
The Smart Weather Big Digit wireless weather station displays the current temperature and humidity in large clear digits (33mm in height). You can choose from either the inside or outside temperature and humidity, but not display both indoor and outdoor readings at the same time. The display console has just three buttons, a button to display the minimum and maximum temperature and humidity records from the consoles most recent reset, a button to clear these records and a button to change between channels, such as indoor and outdoor readings. You can optionally add up to 8 external sensors and have the console cycle through the readings for each one. The console unit records maximum and minimum temperatures and relative humidities for each channel since the last power-up or memory reset. A nice touch is each outdoor sensor has a small display of temperature and humidity, channel number, and a red LED that pulses once a minute when sending readings to the indoor unit. A friendly face icon gives a quick overview of humidity levels.
Conclusion
For simplicity this unit can't really be beaten, both in set up and usage. While it lacks the features of higher end models it makes up for it with a very reasonable price and the big clear temperature display.