Aercus WS2083
Wireless Weather Station
| Feature | Support |
| --- | --- |
| Inside / Outside temperature | / |
| Min / Max temperature | / |
| Wind speed / direction | / |
| Wind gusts | |
| Inside / Outside humidity | / |
| Dew point | |
| Rainfall | |
| Wind chill | |
| Forecast | |
| Barometric pressure | |
| Charts | |
| Wifi connection | |
| USB connection | |
| Internet upload | |
| Separate sensors | |
| Solar powered sensors | |
| Programmable warnings | |
| Mobile app | |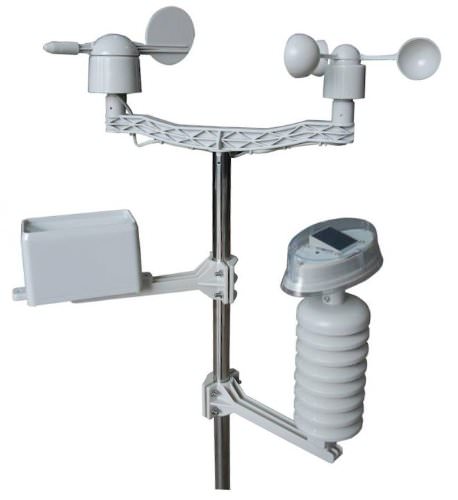 Set up
The Aercus has 3 sensors attached to a single pole, connected to each other via cabling. The linking cables are long enough that the 3 sensors can be separated, ideally the wind meter should be at the top of the pole, the rain gauge lower out of the wind but not sheltered from the rain and the temperature sensor should be 4 to 6ft from the ground and out of direct sunlight. However if you have no choice but to keep them close to each other on the same pole - the results should still be acceptable.
The sensors are battery powered on this model, to get the next model up with solar powered sensors look for the WS3083 model which feature a solar panel to charge the sensors battery automatically. You should fix the pole in an open high area e.g. a shed roof, for the wind speed readings are to be accurate. The wireless receiving console should be placed indoors with in 100m of the sensors. The console can be wall mounted or free standing on a table or shelf.
Features
The Aercus is packed with features for the mid-range price, you'll find light and ultraviolet sensors usually only available on higher end models. That plus a USB connection to your PC for analysis and automatic uploading to the internet makes this a very modern take on the home weather station. If you leave your PC on and connected it is possible to upload automatically to the wunderground.com website at regular intervals.
Special features include customisable weather alarms tiggered by high or low values e.g. set an alarm if the temperature drops below 3 degrees or another alarm when the wind exceeds 30mph. There is also built in automatic storm warning. The minimum and maximum recorded values for temperature and wind speed come with a time and date stamp, something not found on most units. As with many units the date/time is automatically set via a radio signal.
Conclusion
You would be hard pushed to beat the features at this price level. Higher end models may beat the Aercus for build quality and longevity, but in the mid-range this unit is hard to beat.