Davis Vantage Pro2
| Feature | Support |
| --- | --- |
| Inside / Outside temperature | / |
| Min / Max temperature | / |
| Wind speed / direction | / |
| Wind gusts | |
| Inside / Outside humidity | / |
| Dew point | |
| Rainfall | |
| Wind chill | |
| Forecast | |
| Barometric pressure | |
| Charts | |
| Wifi connection | |
| USB connection | |
| Internet upload | |
| Separate sensors | |
| Solar powered sensors | |
| Programmable warnings | |
| Mobile app | |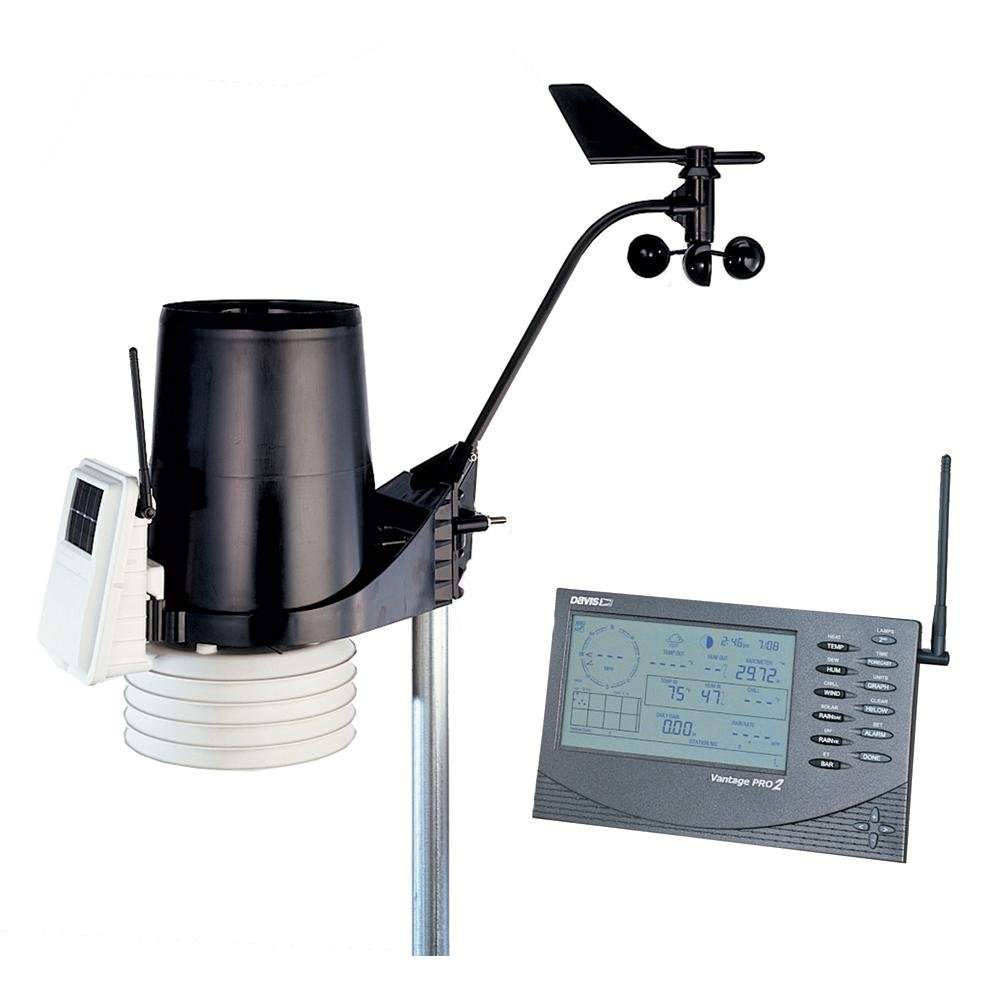 The Davis Vantage is a top of the range weather station with great build quality and is designed to meet the guidelines of the World Meteorological Organization.
Set up
Set up is a little complex if you want to upload data to the internet and you will need to buy the Davis WeatherLink module and PC software.
The long cable for the anemometer gives you lots of placing options, allowing placement away from the main sensor module. The cable connects to the main sensor module containing the temperature, humidity and rain gauges.
The wireless transmission range is unmatched in our tests, the range is 300m in open areas and 100-150m through walls. Data is updated every 2.5 seconds.
Features
The Davis is a professional grade weather station made from high quality components. Data displayed on the console includes historical daily, monthly and yearly data. The console is clear and well designed, and looks high quality compared to other cheaper units. All of the expected features are there: temperature, humidity, wind speed, rainfall, barometric pressure and short term forecast. The aluminium plated tipping bucket is corrosion-resistant and laser calibrated for accuracy.
Conclusion
If you don't mind the extra cost and complexity when connecting to a PC and the internet, and just want a professional solid reliable weather station with outstanding wireless range then this could be the unit for you.