HopCentury Wireless Weather Station
Temperature and Humidity
| Feature | Support |
| --- | --- |
| Inside / Outside temperature | / |
| Min / Max temperature | / |
| Wind speed / direction | / |
| Wind gusts | |
| Inside / Outside humidity | / |
| Dew point | |
| Rainfall | |
| Wind chill | |
| Forecast | |
| Barometric pressure | |
| Charts | |
| Wifi connection | |
| USB connection | |
| Internet upload | |
| Separate sensors | |
| Solar powered sensors | |
| Programmable warnings | |
| Mobile app | |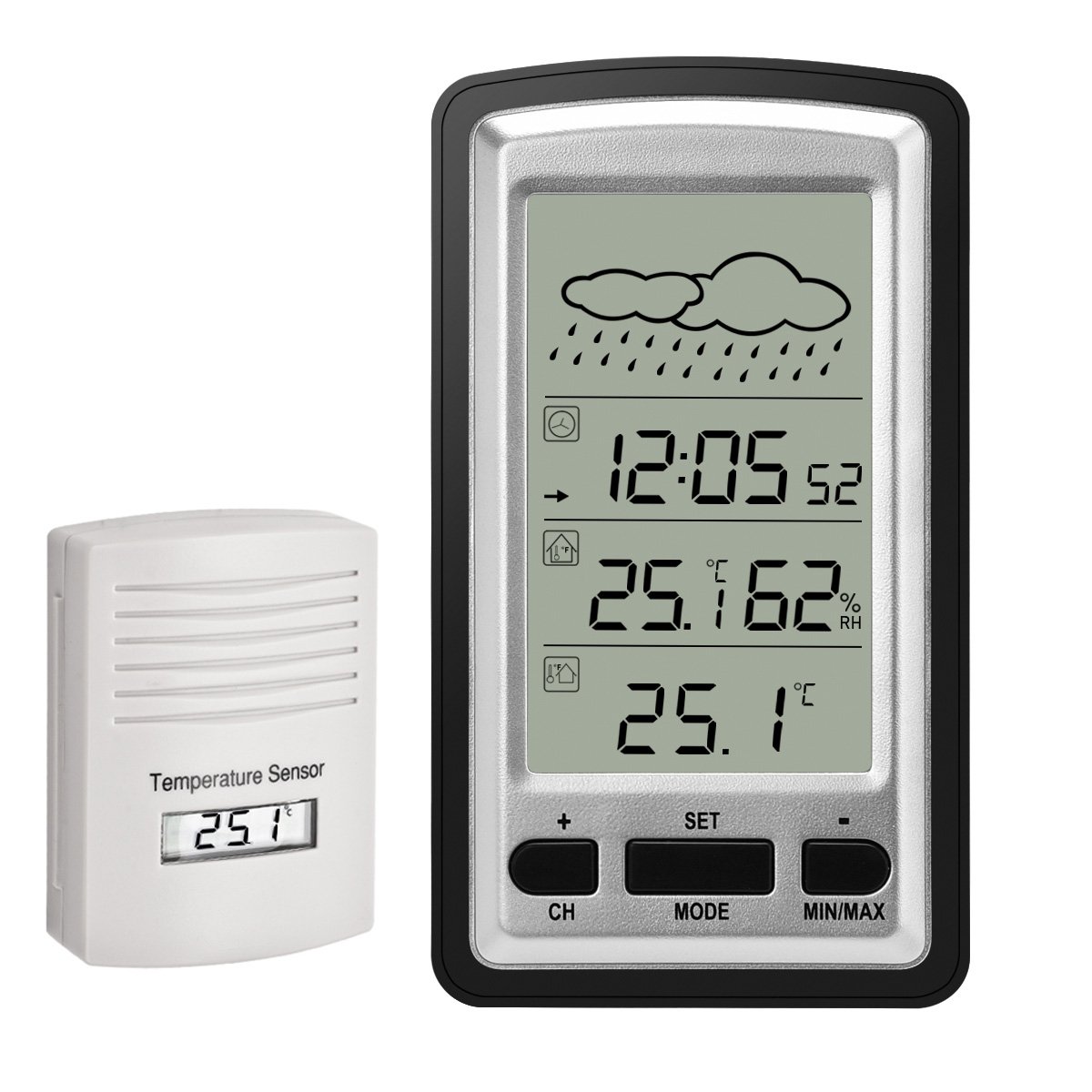 The HopCentury wireless weather station is designed for use in the home or office. A basic model it measures outdoor and indoor temperature, plus indoor only humidity.
Set up
Simply mount the outdoor sensor some where outside - preferably away from direct sunlight for the most accurate readings. The transmission distance to the main unit is maximum 100m and will pass through one or may be two walls depending on the material. The outdoor sensor takes 2pcs AAA batteries which are not supplied. The indoor display unit is also powered by 2 AA batteries.
Features
The unit measures indoor humidity, and both indoor and outdoor temperature. Also it will store both minimum and maximum temperature and humidity readings.
There is an inbuilt weather forecast tendency which is based on the changing barometric pressure. A single display unit can be connected to up to 3 sensors - but only 1 is supplied in the package.
Conclusion
For simplicity this unit can't really be beaten, both in set up and usage. While it lacks the features of higher end models it makes up for it with a very reasonable price and it's attractive simple package.