Netatmo Weather Station for Smartphones
| Feature | Support |
| --- | --- |
| Inside / Outside temperature | / |
| Min / Max temperature | / |
| Wind speed / direction | / |
| Wind gusts | |
| Inside / Outside humidity | / |
| Dew point | |
| Rainfall | |
| Wind chill | |
| Forecast | |
| Barometric pressure | |
| Charts | |
| Wifi connection | |
| USB connection | |
| Internet upload | |
| Separate sensors | |
| Solar powered sensors | |
| Programmable warnings | |
| Mobile app | |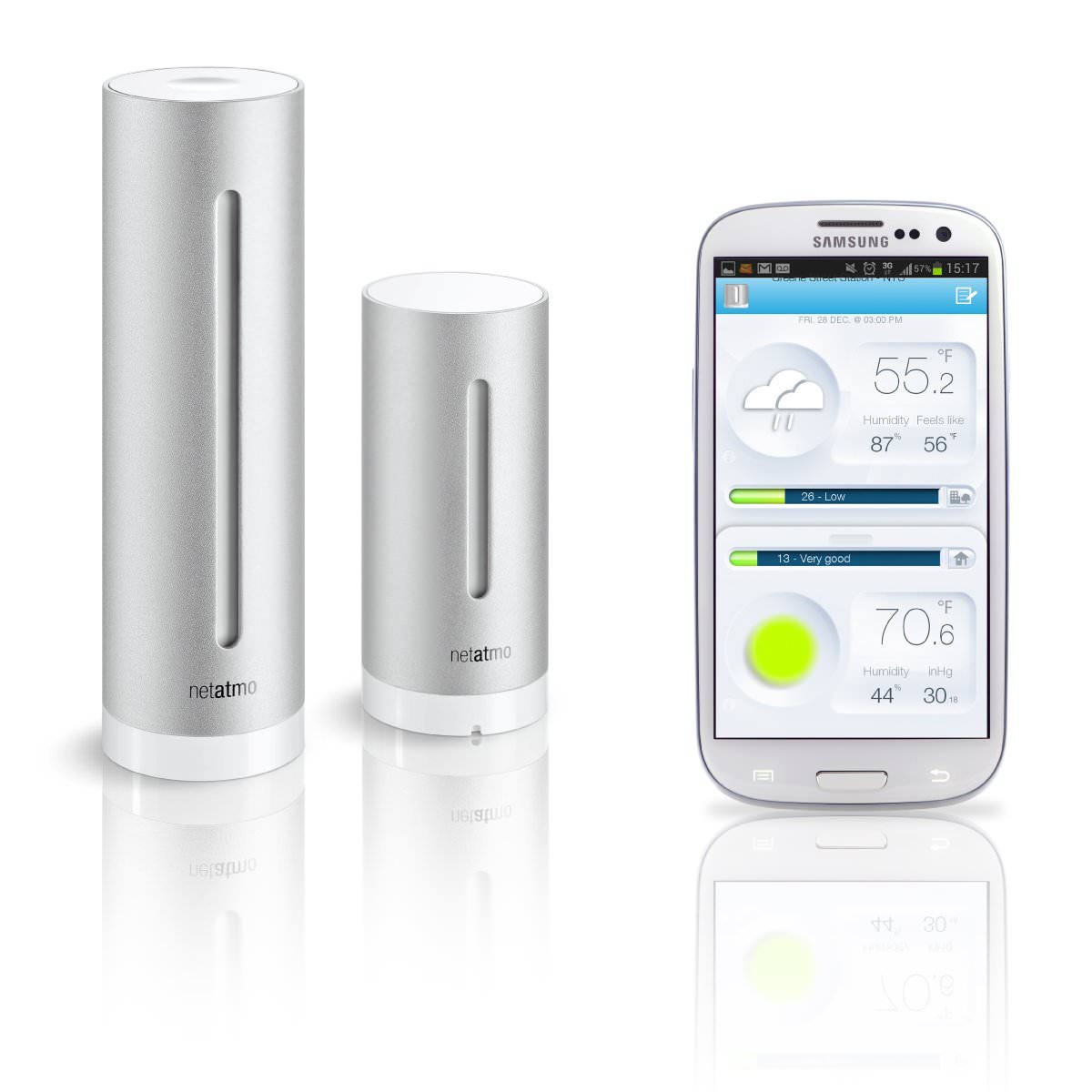 Set up
The Netatmo is unique amongst our home weather station reviews in that it has been made for connection to iPhone and Android smartphones for accessing data from anywhere and anytime. The station comes with both indoor and outdoor sensor modules. Both modules connect via Wifi and the collected data is automatically uploaded to Netatmo and visible via an app or on the Netatmo website. The indoor station is powered by USB, so you will need to use your own USB charger or buy a new one as none is supplied.
Set up of the Netatmo is trivial, position the indoor module near a plug in the room you want to monitor and plug it in. For the outdoor module, find a spot that never receives direct sunlight, put a screw in the wall and hang it from the screw. The configuration is done using the simple a web browser, just follow the simple instructions.
Features
The home weather station features indoor and outdoor temperature and humidity, barometric pressure, indoor CO2 concentration and a sound meter. There are real time notifications and charts for data history (data is logged every 5 minutes).
The carbon dioxide and sound meter sensors are unique and add environmental data to the typical set of weather features. City dwellers will be particularly interested in the air quality monitoring.
Note the Netatmo also has a rainfall gauge optional extra should you need it.
We found the app (iPhone and Android) and the website easy to use and very beautifully designed. As well as data collected by your Netatmo station you can also view a short term weather forecast. There doesn't appear to be an easy way to get at the raw data should you need to for your own spreadsheets or other applications. You can however share the data access with friends or family by using the invite by email feature on the Netatmo website. The weather station itself uploads directly to the internet so unlike some other weather stations there is no need to keep your PC on to get around the clock weather data upload.
Conclusion
Netatmo is a unique and stylish home weather station solution, a little expensive but very polished, it makes monitoring your home conditons a pleasure. For the same money you can buy weather stations that include wind and rain gauges, so you are paying a premium for the simplicity and view anywhere possibilities.