Watson W8681-Pro Touch Screen Professional
WI-FI weather station
| Feature | Support |
| --- | --- |
| Inside / Outside temperature | / |
| Min / Max temperature | / |
| Wind speed / direction | / |
| Wind gusts | |
| Inside / Outside humidity | / |
| Dew point | |
| Rainfall | |
| Wind chill | |
| Forecast | |
| Barometric pressure | |
| Charts | |
| Wifi connection | |
| USB connection | |
| Internet upload | |
| Separate sensors | |
| Solar powered sensors | |
| Programmable warnings | |
| Mobile app | |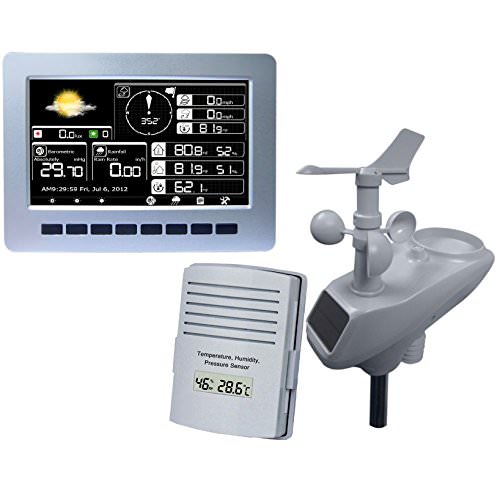 This model is the same as the standard W8681-Pro but with a touch screen.
Set up
The Watson W8681-Pro with touch screen is a higher end model that comes with 2 separate wireless sensor modules, that can be positioned independently (they are not linked by a cable like some cheaper models). This lets you postion the temperature and humidity sensor on a wall in an ideal position and the wind and rain gauge module some where higher and exposed to the elements. The transmission range is 150m and and can pass through one or two walls to reach the receiving console. The receiving console just has a single power cable and has no direct connection to your PC. The console can connect to your wifi network and upload the data directly to wunderground.com.
This video covers the set up for the almost identical but non-touch screen weather station branded as Ambient Weather WS-1000 WiFi.
Features
The weather station is fully featured at this price point, only lacking an ultraviolet sensor. The main console is very attractive and easily controlled via touch, which is a nice additional feature. We found the screen bright and easy to read, though the layout could be improved. The charting on the main console, which can display pressure, temperature and humidity, is a nice feature not found on cheaper models. Having an extra display of temperature and humidity on the actual sensor module is a nice touch.
The ability to sync the data automatically with wunderground.com over your WiFi network works well and you can view detailed reports on their website. If you need to get the raw data for analysis on your PC then your only option is to copy data from the weather stations memory card.
Conclusion
The Watson is a good mid-range weather station, touch screen and the separation of the sensors is nice, as is the WiFi connectivity. We think the display layout could be improved slightly. But it's a minor quibble and a matter of taste. Your choice is weather you want to spend the extra money on the touch screen or get the cheaper non-touch model.