Handheld Anemometer Wind Speed Meter
| Feature | Support |
| --- | --- |
| Inside / Outside temperature | / |
| Min / Max temperature | / |
| Wind speed / direction | / |
| Wind gusts | |
| Inside / Outside humidity | / |
| Dew point | |
| Rainfall | |
| Wind chill | |
| Forecast | |
| Barometric pressure | |
| Charts | |
| Wifi connection | |
| USB connection | |
| Internet upload | |
| Separate sensors | |
| Solar powered sensors | |
| Programmable warnings | |
| Mobile app | |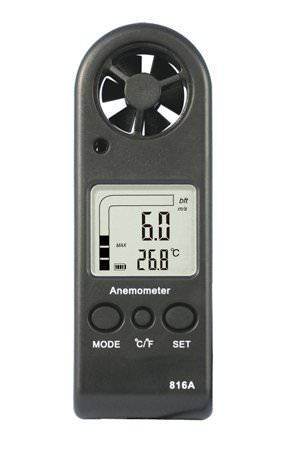 This a handheld digital anemometer that will fit in your pocket. It's designed for outdoor sports enthusiasts such as hang gliders, kite surfers, windsurfers, sailors, surfers, paragliders and shooting. It measures wind speed, wind gusts and temperature. The unit includes a small soft, plastic case and landyard.
You can choose the anemometer units from mph, km/h, m/s and knots. You can choose from current speed, average speed and maximum speed. There is a backlight option and a beaufort scale on the edge of the display.
We found the screen not the easiest to read with the figures being a little faint. You may need to change the angle to read it though this can be an issue since you need to direct the anemometer straight into the wind for an accurate reading.
This is a good anemometer but for only a little more you could purchase the superior Benetech LCD Digital anemometer.